Using Wiki as a knowledge base helps you to collaboratively manage your information and the content structure with other members.
We will explain the basics of using a Wiki as a knowledge base while introducing some of Backlog's unique features.
Adding overviews of emails and chats to the Wiki
As time passes, past emails and chats can become difficult to search through. It can also be difficult to quickly find the conclusions of a conversation without reading through several emails.
As we touched on in the "Other information sharing tools[i]" section, you can make information easier to find by summarizing the conclusions of conversations and adding those to the Wiki. It may also be wise to use quote and code block notation to copy and paste the most important parts of chats to the Wiki.
Some Wiki services have features to help with this. For example, if you use Typetalk as your chat tool, you can easily quote your Typetalk chats within a Backlog Wiki.
STEP 1: Within Typetalk, select the messages that you would like to quote in Backlog Wiki.

STEP 2: You can group related messages using hashtags.

STEP 3: Select the tag you want to reference and copy the tag's URL.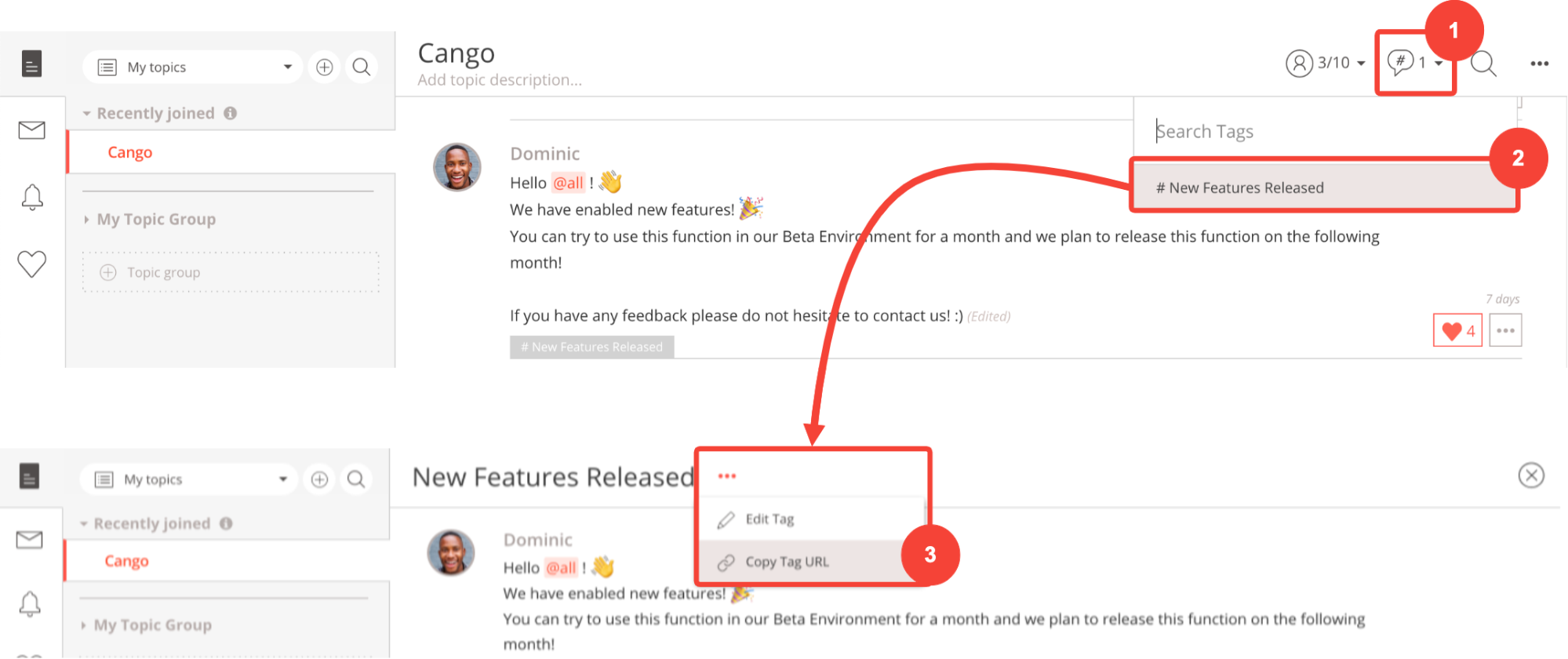 Click "Submit" to apply changes and the contents of your chat will appear inline, as shown below.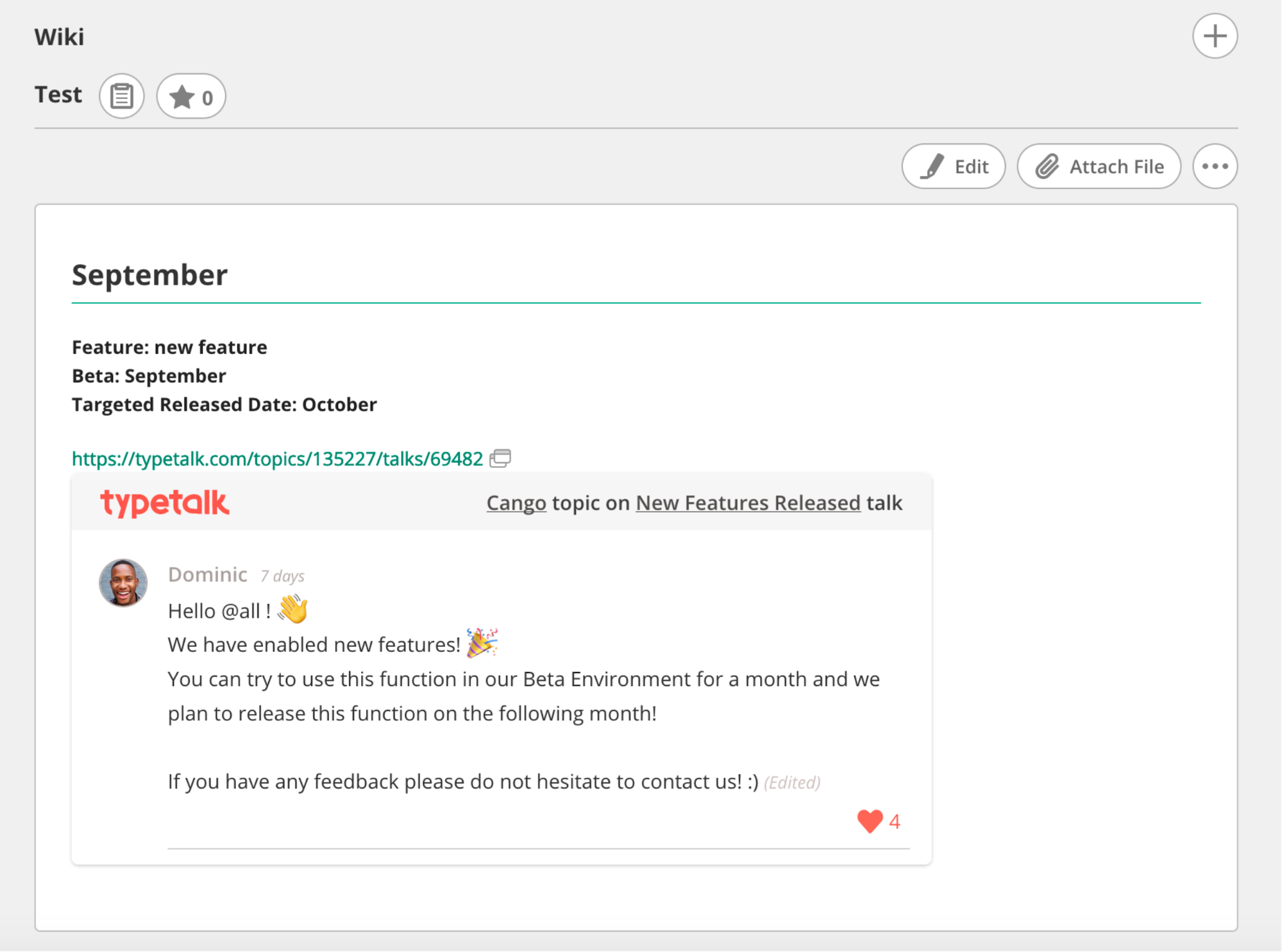 Adding tasks and issues to a Wiki page
Issue management tools (i.e. ticket management tools, bug tracking systems) help teams record, track, and resolve issues. When searching through past issues, it can be difficult to understand their conclusions with reading sifting through several comments, attachments, and even subtasks.
In such cases, as with email, adding a summary of the conclusion of the issue can make finding the necessary information much easier.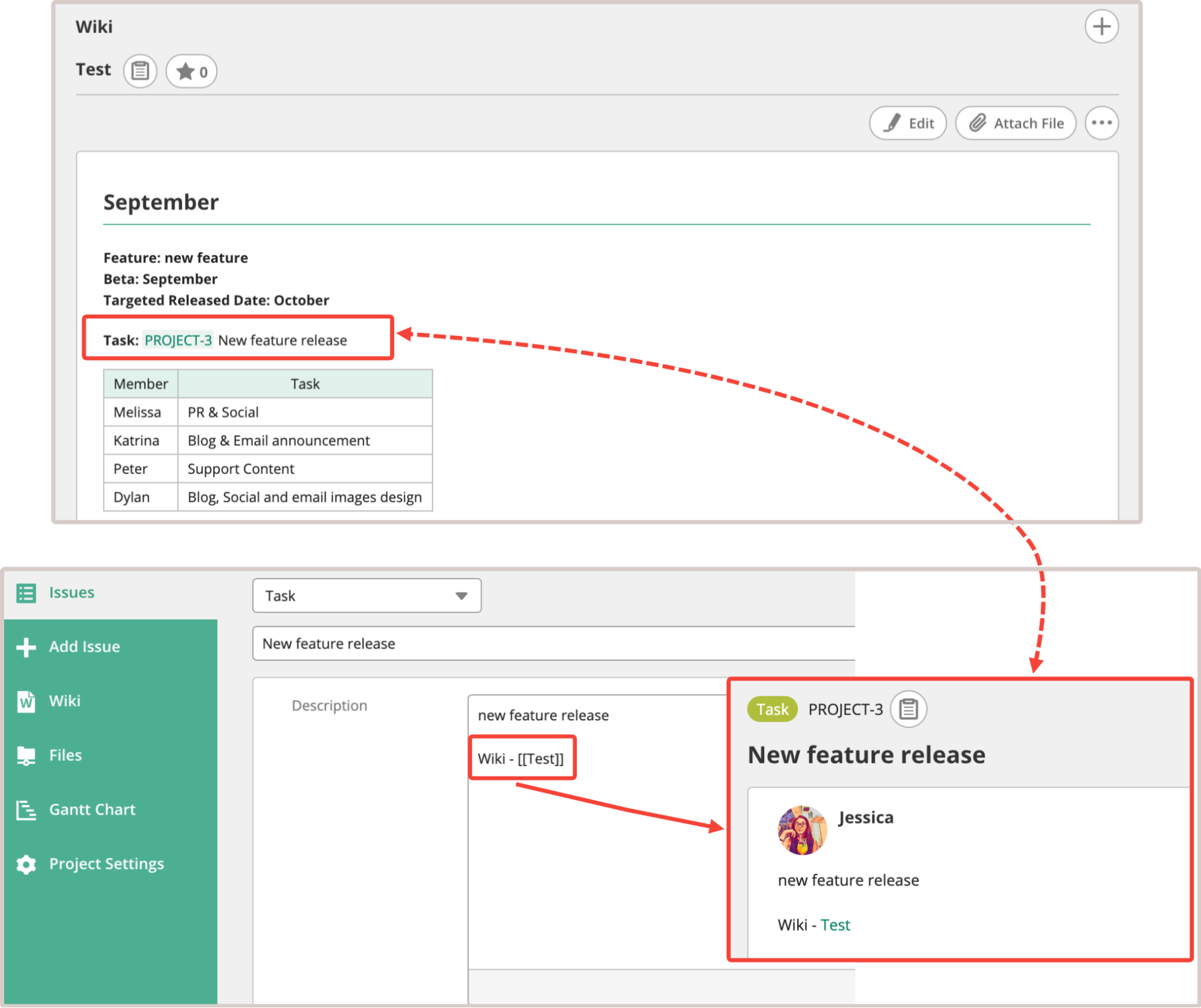 With Backlog, you can easily link Wiki pages and tickets. Adding a ticket key (e.g. PROJECT-3) to the Wiki page will automatically turn it into a link to the ticket page.
Separating continuously updated pages and non-updated pages
A Wiki is used as a knowledge base, but, over time, some pages will naturally be continuously updated, while others won't. You can use the page structure to communicate what members should expect.
Examples of pages that require continuous updates:
Pages that provide an overview of a topic

Example 1: An "Organizational chart" page for a given project with the names of all personnel provided
Example 2: A "System structure" page providing connectivity relationships between servers on a software development Wiki

Pages providing an introduction for new team members

Example: A "Page for new members" linked to from the Home page.
Examples of pages that do not require updates:
Pages representing a particular date and time

Example: A page with a disclaimer like "This page provides the results of an investigation made in August of 2019" at the top of the page.

Pages that are referenced in a parent page

Example: A child page with results of a materials review housed under a "Mid-project deliverables" page. Items to be updated in the future are on a child page of the "Deliverables" page.
In extreme cases, you might also note which pages are continuously updated on your Wiki's Home page. For example, you could modify the organization-wide Wiki from the Common page structures section to clarify which pages are continually updated.
Markdown notation
# _____ Department Wiki
## Continually updated pages
* [[Organization chart]]
* [[Page for new employees]]
* Please link all information for new or newly-transferred employees on this page
* [[Manuals/Attendance management]]
* [[Manuals/Expense claims]]
* [[Manuals/Meeting room reservations]]

## Non-updated pages
* [[Records/Regular meeting - (2019-09-03)]]
* [[Records/Special meeting - (2019-09-06)]]
* [[Memos/Memo title 1]]
* [[Memos/Memo title 2]]
Backlog notation
* _____ Department Wiki
** Continually updated pages

- [[Organization chart]]
- [[Page for new employees]]
-- Please link all information for new or newly-transferred employees on this page
- [[Manuals/Attendance management]]
- [[Manuals/Expense claims]]
- [[Manuals/Meeting room reservations]]

** Non-updated pages
- [[Records/Regular meeting - (2019-09-03)]]
- [[Records/Special meeting - (2019-09-06)]]
- [[Memos/Memo title 1]]
- [[Memos/Memo title 2]]