Project Management Guide
Tutorial: Using What you've learned in Backlog
For this tutorial, we'll walk you through the practical application of everything we've discussed so far using our own project management app Backlog.
To follow along, you can start a 30-day free trial, no credit card required.
During this tutorial, we'll create a sample project and walk through some basic task management processes.
Adding tasks
First, we need a project to work in. (You can't create a task that isn't tied to a project in Backlog.)
It's time to create your first project.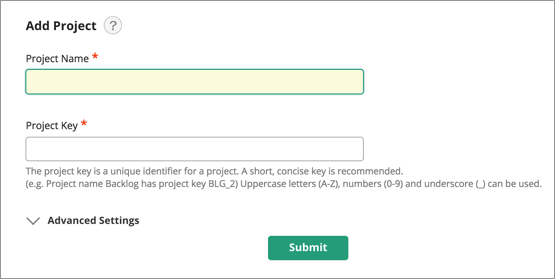 Note: In Backlog, your user account needs to have Manager privileges in order to create a project.
If you're practicing this tutorial logged in as a member of an organization, your user privileges may not be set to this level. If this is the case, you'll have to ask someone to create the project for you.
Alternatively, you can register for your own free trial just for the purposes of this tutorial where you'll have full administrative rights.
Create a task
Within your project, use the "Add Issue" button to create your first task.

Enter a Subject and Description
We're going to make the subject of our example task "Design homepage." (You can make yours whatever you'd like.)

Next, enter in a description of the task. Even though this isn't a 'real' task, seeing what these parameters look like in Backlog after you complete them will give you a better idea of the options available to you when you go to set up your first real task.

Add an assignee
Remember, the two most important parameters of any task are the assignee and due date.
Choose an assignee. In this case, you probably want to choose yourself.

Enter a due date
Now for the second most important parameter: the due date. Enter a date in the future that's about a week out.

Other parameters
You can play around with the other parameters at this point to see what's available. You can choose a priority, start date, and estimated number of hours to complete.
If you're new to Backlog, you probably won't see any options available for Milestones or Versions yet. You can leave these areas blank.
Feel free to add a document or image if you think it would clarify the task.
You also have the option to notify people of your task creation, but since this isn't a real task, you don't need to do that for now.
Note: Backlog offers a variety of parameters, but here we are only setting the most necessary. If you want to know more about the other parameters available, please consult our Getting Started user guide.
Save the task
Click the "Add" button in the lower right hand corner of your screen.

Congratulations! You've added your first task to Backlog!
For more practice, continue adding in tasks following these same instructions.
Updating and completing tasks
Following the creation of a task, you'll likely need to update it. You or a team member will work on the task, and then once the task was completed, the task needs to be closed.
Let's walk through each of these steps.
Select a task
You can find a list of all tasks assigned to you or created by you on your Backlog dashboard in the lower left module.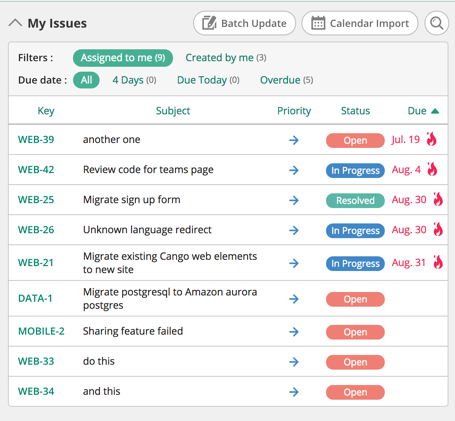 Select the task you want to edit, and you'll be brought into the issues main page.
Edit a task
Select the "Edit" button in the upper-right hand corner of your issue page.

Change any parameter you want to update. Here, we'll change the status of the task to "In Progress" instead of "Open" to signal to other team members that we have begun working on the task.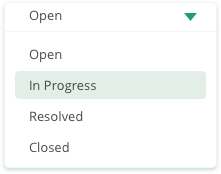 Saving changes
Once you're done editing any other parameters you may wish to alter, click the "Save" button to commit the changes.

Now, anyone searching for this task will see that it is currently being executed thanks to the "In Progress" status marker.

Completion
Once you have completed the execution of a task, you'll follow the same steps we just did to change the status this time to "Closed."

The task will then exist as an archive of your work. Others can search for and review it, but it will be regarded as complete.
Searching for tasks
You can search for tasks a few different ways in Backlog.
Search bar
You can use the search bar in the upper-right hand corner of your dashboard.

Simple and advanced searches
You can also perform a search from the Issues page of any project where you can narrow down tasks by parameters.
First, enter the project you would like to search for tasks within.
Using your left-hand menu, select the Issues page. You'll notice that all tasks within that project are listed in descending order from which they were last updated.

From here, you can narrow down tasks by Category, Milestone, Assignee, or Keyword.
Using the Advanced Search slider, you can further narrow down tasks by any parameter available in Backlog including Status, Issue Type, Priority, Registered by, and more.

Gantt Charts
Note: Gantt charts are only available in Backlog on our Standard and Premium plans.
Using Gantt charts
A Gantt chart is a series of horizontal lines showing the amount of work done over periods of time in relation to the amount planned for those periods.
Gantt charts in Backlog are automatically generated for your projects for any tasks with a due date. So all you need to do to start properly using Gantt charts is ensure that each and every one of your tasks has a due date.
To view a Gantt chart for a particular project, enter the project and select "Gantt Chart" from the left-hand menu.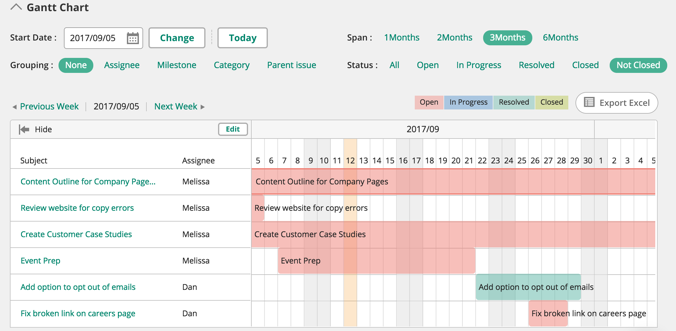 Pro Tip: Get the most out of your Gantt charts.
To make these Gantt charts even more visually accurate, you'll want to get in the habit of setting start dates for your work. This way, you can see how tasks overlap with one another.
Milestones
Creating milestones
To add milestones, create and attach them to a task within the task editing page. Apply the milestone to all relevant tasks to ensure they're properly grouped.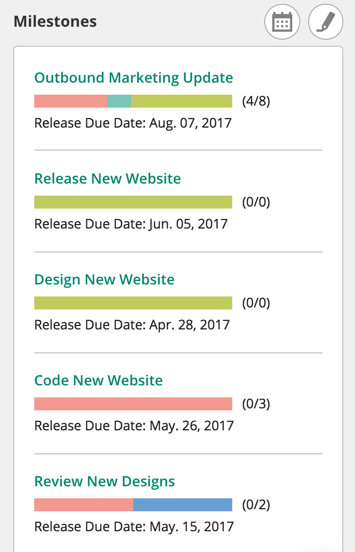 Pro Tip: Combine tools for deeper insights.
If you use Milestones alongside Gantt charts, you can confirm progress at a glance. We recommend you do this regularly.