Tables
Backlog supports tables similar to the one supported by PHP Markdown Extra.
| (vertical bar) is used to divide cells in a row.
By putting || (two vertical bars) without a space in between, the cell on the left will be merged.
Multiple - (hyphens) divides header and body rows. Enclosing the hyphens in : (colon) will align text center, and putting : (colon) on the right will align text right.
Enclose the title of the table in [] (square brackets) and put it at the last row.
Example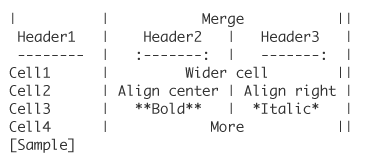 Result
Merge
Header1
Header2
Header3
Cell1
Wider cell
Cell2
Align center
Align right
Cell3
Bold
Italic
Cell4
More
Sample