My Issues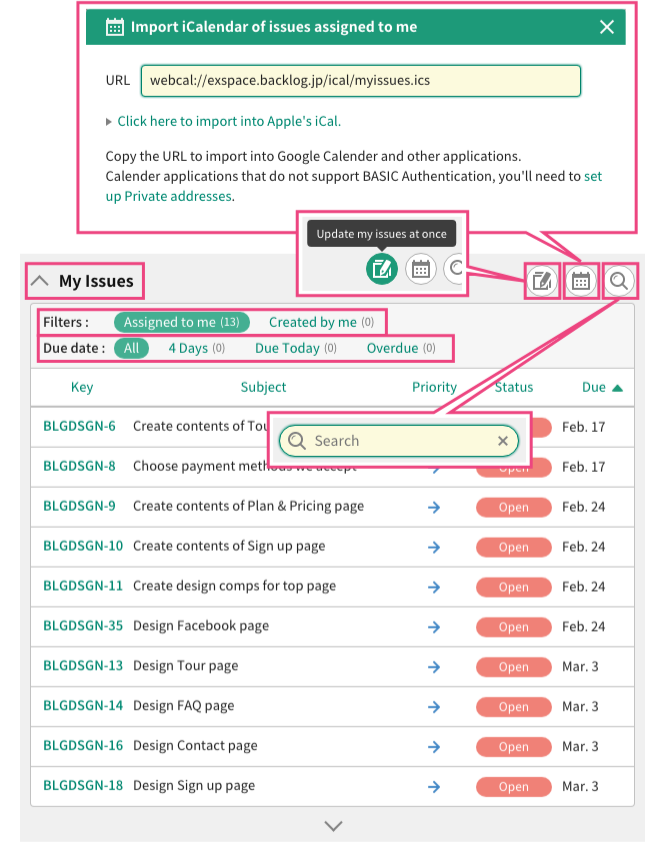 By default, you'll see 10 issues that are assigned to you among all projects. By clicking "Show all", you'll be able to see all issues when you have more than 10 issues.
Click "Created by me" tab to switch to issues that you have added.
Buttons on the right are used to filter the issues:
All - show all issues
4 Days - show issues due within 4 days
Due Today - to show issues due today
Overdue - to show overdue issues
Numbers in [ ] shows the number of issues.
Using "Search my issues" window, you can filter with the name of issues or with key.
Edit: Clicking on the "Update my issues at once" button will direct you to the "Update issues at once" page. Please refer here for information regarding the operations on "Update issues at once" page.
Pressing calendar button beside "My issues", you'll get the URL to import the calendar of your assigned issues.
The URL can be used on calendar applications such as Apple's iCal or Google Calendar.