There's nothing like kicking back and hanging out at the bar—a bar graph, that is. A Gantt chart is a bar graph that maps out a project's course of action in a timeline format and visualizes accountability for all of those involved. It is the backbone of any project, keeping structure and giving the project shape from head to toe. For your project to reach its happy hour, start with a solid Gantt chart. With this in place, you are on your way to sipping up success.
Main Ingredients: Scope & Details
No mixers needed here, just give the details straight! Gantt charts visualize the timeline of a project plan with a start date, end date and deadlines in between that keep the project on track, in motion, and within budget. Before beginning your project, your Gantt chart should be crafted with as much detail as possible. Include every piece of information that elaborates on the scope of the project. With more details, you are better able to communicate with your team and clients, and these splashes of information will help you and your team stay accountable to the project's scope throughout the process.

Schedule, Official Cacoo Template
The Macro & Micro Brews
Gantt charts offer both macro and micro views of your project that together act as a powerful tool for time management. In the macro view, you can see the project as a whole and know the scope of what has to get done by the final deadline. Your chart should be packed with details, including milestones and deadlines along the way. These mini-deadlines within the larger framework make up the micro view of the project. With milestones as check-points, you can always ensure that you are on track in your grand scheme of the project.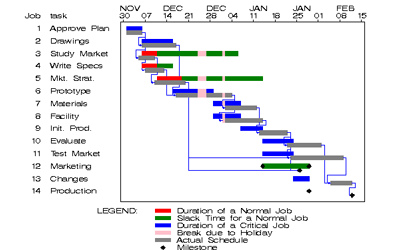 In a Gantt chart, you can clearly see a project from macro and micro perspectives. The colored blocks illustrate the tasks within the general project plan. Photo credit: jean-louis zimmermann via Visual hunt / CC BY
Hold the Micromanagement (or Shaken not Micromanaged)
Paul Roughton from S And S Motorsports says that one key to success is having good leadership without the claws of micromanagement. Gantt charts are one way to subdue micromanaging. As a solid structure and backbone to the project, the Gantt chart allows team members to self-manage themselves through a project. No matter where they are along the journey, the chart provides the crumbs along the path for which to follow to the destination. Leadership can rest assured that the employees they have working on a project are sticking to the plan, and as a result the employees can feel trusted and confident without a constant hammer from the top.
To touch base with team members, you can include quick, periodic meetings in the schedule, where everyone can report in on their status and discuss how they are progressing toward the project goals. CEO of 10K', Martijn van Tilburg, says that short updates from each team member allow each person to focus only on the important details. This can, in turn, focus their own workflow and efficiency toward the progress of the project.
Goes Down Easy
Simply put, a Gantt chart is an easy way to visualize your project plan. With color-coded milestones and clearly graphed out details, you know what you need to do and where you need to get to with just a quick glance. This graphic structure clearly identifies the current task, who is working on it and when it is due. You have a solid, clear picture of everyone's progress all at once and can easily grasp the accomplishments behind and path ahead. If you are working on multiple projects simultaneously, Gantt charts can be easily compared, in order for you to plot out your strategy and get the most out of time management. Because these charts are easy to read and digest, they shrink the margin of user error, giving a smoother path to success. It's a one-size-fits all scheduling system.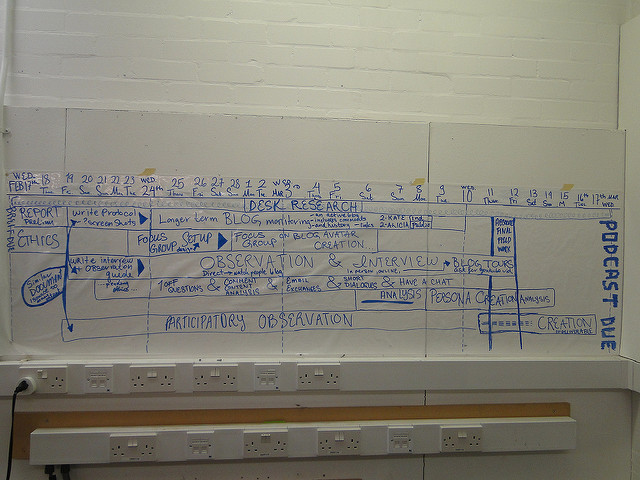 Photo credit: Kalsau via Visualhunt / CC BY-NC-SA
Change Your Order
As time elapses, deadlines are met and the project progresses, unforeseen situations may cause change to your timeline. Change is an inevitable part of the project process but can also cause you to get off track of the project plan. A Gantt chart is flexible, and can be easily updated and tailored throughout the process. If you are aiming to stick to the scope and overall deadline of the project, you can always update or adjust the tasks or milestones between the start and end dates. Perhaps one task didn't take as long as expected but another is proving to be a longer investment. Alterations in the chart can be made pretty easily. However, you may come up against a situation where your end goal for the project may seem impossible. With some proper pre-planning, you can provide yourself with relief in this plausible scenario. Samit Shah, Cofounder of EventEdge, a company that provides pop-up pedestrian bridges for events, suggests that when drafting up the original Gantt chart, it is a good idea to work additional time into the original chart for possible changes that could come up along the way. Should change arise, you are better prepared to meet your project plan goals with extra time at your disposal.
Tools of the Trade
The beauty of the Gantt chart is that it comes in all shapes and sizes, and you can craft one to the needs of your particular project. If you need an hourly view or monthly view, create a chart that fits your project best. You can make it as simple or as complicated as you need. Nulab's project management software, Backlog, creates an automatic Gantt chart for each project. These Backlog Gantt charts use color to show the status of an issue, providing immediate clarity of the progress of the issues and tasks. For example, blue will jump out at you meaning the project is in progress and if you see green, you can know right away that the issue has been closed out. Flags on the top bar indicate milestones. For really large projects, these colors and flags are extremely effective tools for clearly identifying progress.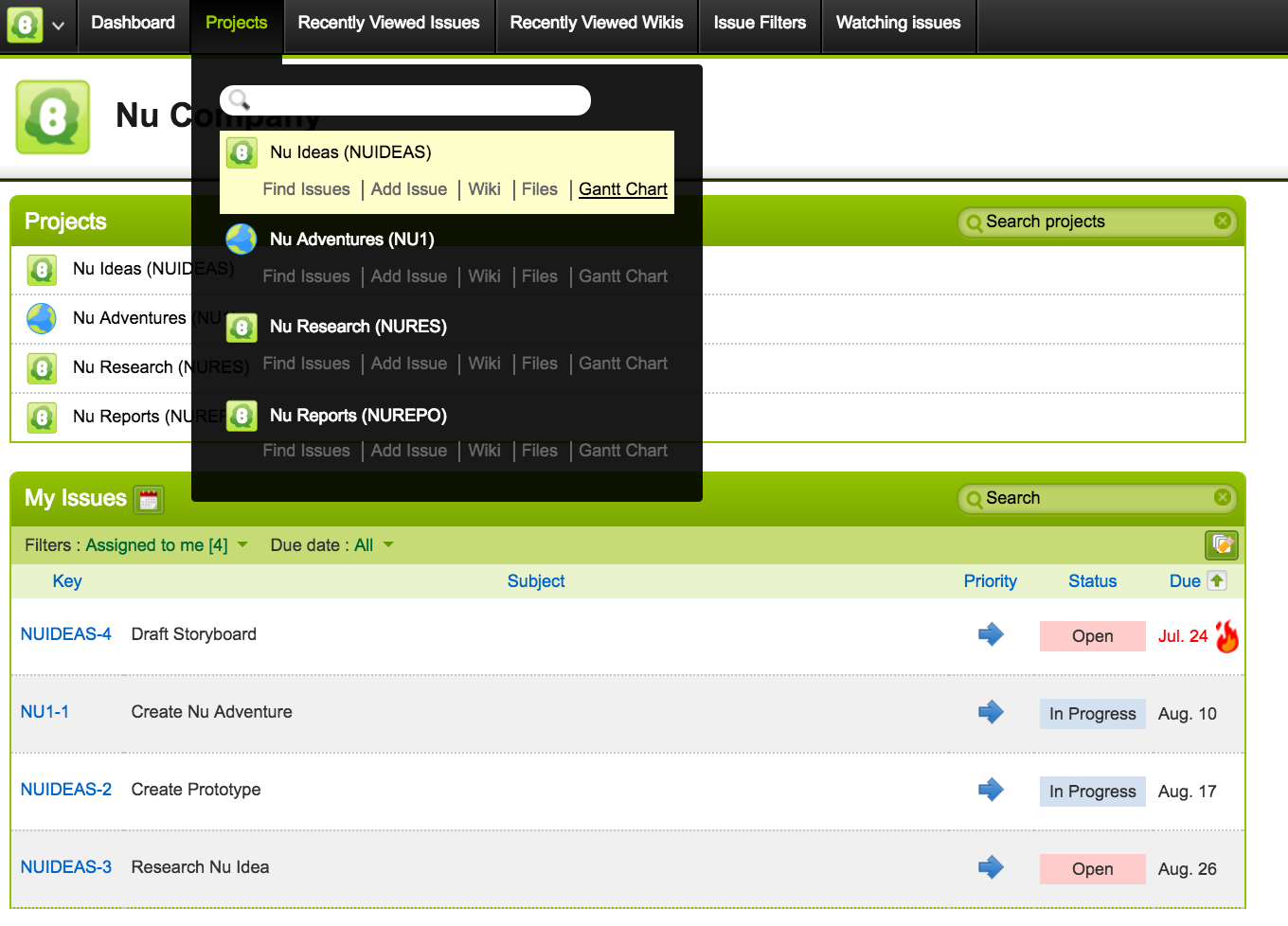 In Backlog, you can find a project's Gantt chart in the project drop-down menu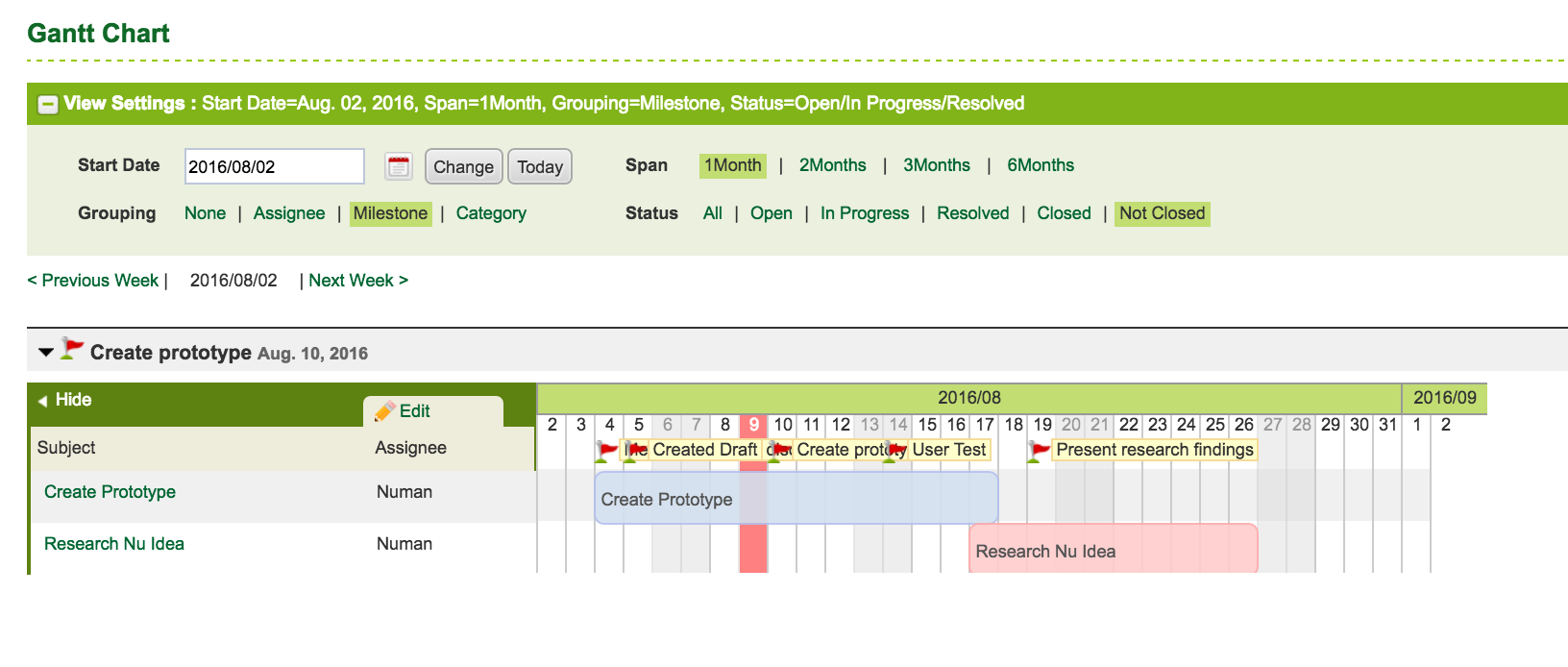 You can visualize that particular project's automatic Gantt chart
Backlog also provides automatically generated Gantt charts for each user that graph out all of their issues/tasks across the system in one simple visual.

This Gantt chart illustrates every task in the system for this one user, accessible through their Backlog profile
With a Gantt chart as your project's backbone, you have in your hands a major tool that can help you achieve success. Next time you're at the "bar," you'll know exactly what's in store.
To learn more about how Gantt charts can help your projects and business, check out our blogs about Tools to Launch Your Startup and Avoiding Bad Project Management Habits.
---
Cover Image Photo credit: Photo credit: monojussi via Visual hunt / CC BY-NC-SA
References:
http://www.businesswire.com/news/home/20160419005522/en/Project-Management-Level-Redbooth-Redefines-Gantt-Charts
http://www.cio.com/article/2599794/project-management/9-secrets-to-project-management-success.html
https://www.linkedin.com/pulse/5-key-tips-successful-project-management-paul-roughton
http://www.p3mo-team.org/EN/gantt-chart-a-must-have-tool/
http://blog.capterra.com/guide-to-gantt-charts/