Backlog will be making some important design changes between March and April of 2017. We want to give all our users a heads up, plus give you some insights into what to expect and how these changes will benefit you.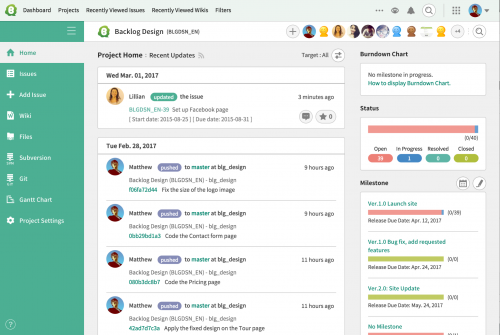 Preview of the new Project page
Updating Backlog's Design
We have a lot of great ideas and big-picture goals for Backlog, and those ideas and goals are constantly evolving as the landscape of project management software changes. In order to deliver the best product possible, we have to remain flexible in our vision and open to change, without losing sight of our mission: to make your work life easier.
We know many of you love the current design, and adjusting to these changes might seem frustrating at first! We appreciate your understanding and patience as you adapt to updates. Remember, we're always here to help you figure things out along the way. You can contact our support team at any time for assistance.
The crux of these changes will center around three main goals:
1. Creating a new UI that focuses your attention on what matters most
We have been reviewing the placement and priority of all menus and features. There are dozens of elements available within Backlog, and navigating all of its options can sometimes get confusing. We want our product to be powerful without being overwhelming.
Preview of the new Wiki page
2. Making each operation run as efficiently as possible
The more screen transitions we create, the less efficient your work gets. It was the perfect time for us to look at each operation and consolidate down to the most efficient routes possible for achieving your end goal. The easier it is for you to complete an operation in Backlog, the more time you get to focus on doing your actual work.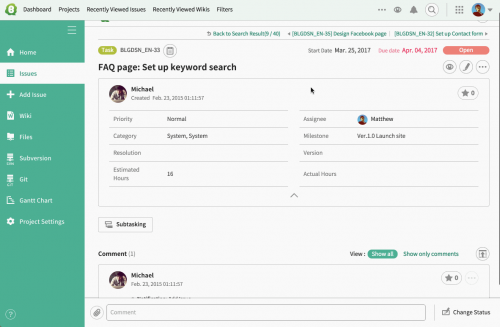 Preview of the new Issue page
3. Introducing a more modern look and feel
We aim to provide the most up-to-date design features to delight both your workflow and your design sensibilities. Simple, clear pages with beautiful graphics make your work not only easier but more fun.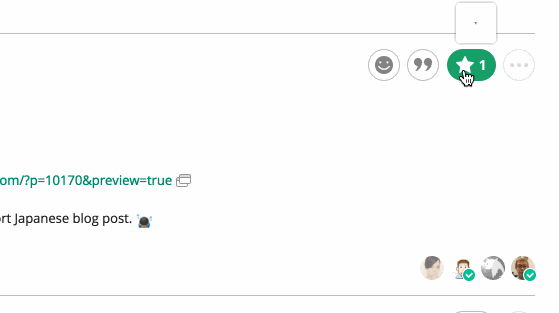 Preview of the new starring animation
Release schedule
We will carry out this Backlog release in two steps.
March 2017: Make the new design available to users
The new design will be available starting in March. You can try it out at any time during this period or return to the current design.
April 2017: Official release
After the official release, the previous design will no longer be available.
What to Expect Next
Once this round of updates is released, we'll do what we always do: continue to keep improving Backlog, so you can collaborate with your team to achieve your business goals.