Backlog Setup Tutorials
Product Management
Growth Experiments
Create and track growth experiments to successfully add new features to your product with our Backlog Setup Tutorial for Growth Experiments.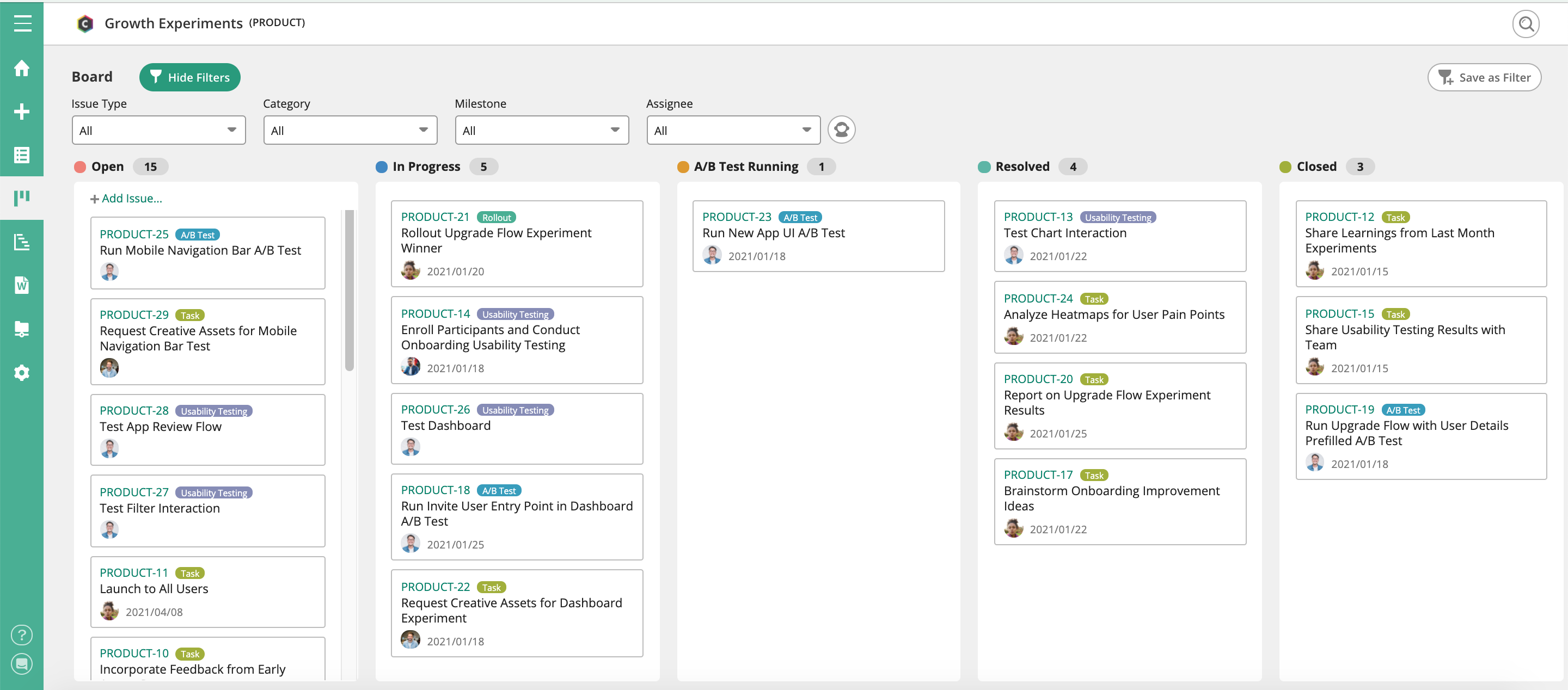 1. Create a Project in Backlog called Growth Experiments.

Project Key: GRWEXP

2. Enable all "Attributes and functionality."

Note: Be sure to enable subtasking.

3. Under "Status," add a new type called "A/B Test Running" for tasks that are currently undergoing A/B testing. (You will not necessarily use it for all tasks.)

4. Under "Issue," create any additional issue types that will help your project. For our example, we're adding "A/B Test," "Usability Test," and "Rollout."

5. Add in all of your tasks. Use parent issues to denote larger goals and use child issues to break up the goals into individual tasks or jobs.

6. Assign each task to the correct team member and add the following details to each:
start date & due date
the priority
7. Optional: Create a wiki for things your team may need to reference, like user contact lists and procedures.

8. Using @mentions, you can collaborate on tasks, gather feedback, and let others know when tasks are complete so that any dependent tasks can get started as soon as possible.



With Kanban-style Boards, you can easily move tasks through your workflow with a simple drag and drop.

With the Issues list view, you can view and filter issues by status, assignee, due date, and more.

Or use Gantt view to quickly see how your due dates may be affecting other work and adjust accordingly.
Product Launch
Organize product launches to visually track your product from kick-off to release with our Backlog Setup Tutorial.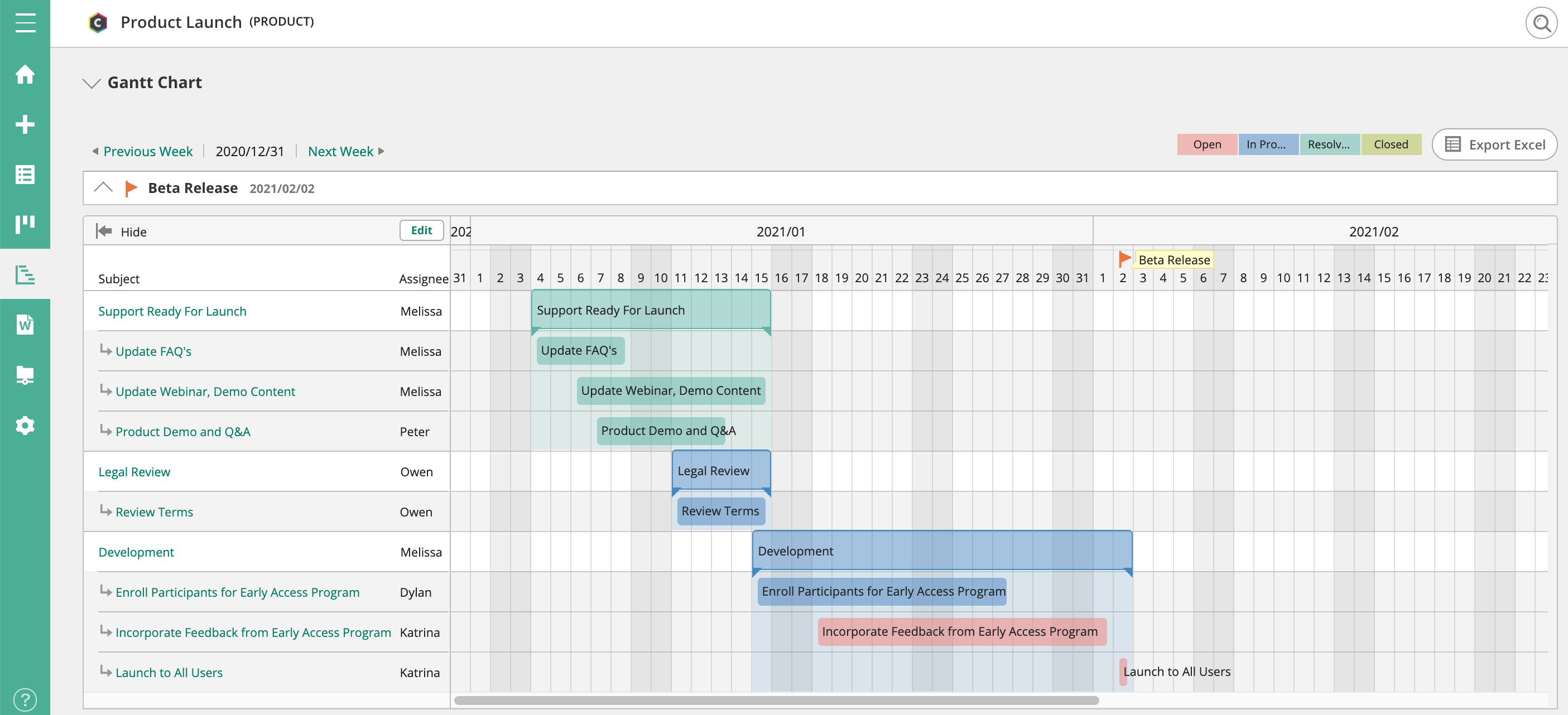 1. Create a Project in Backlog called Product Launch.

Project Key: PRDLNCH

2. Enable all "Attributes and functionality."

Note: Be sure to enable subtasking.

3. Create categories for each type of work your team will be doing. For our example, we're adding:
Development
Legal
Support
4. Add Milestones to your project to track your team's progress. For this specific project, we're adding 'Beta Release', but you can add others like:
Internal release
Launch to all users
Mobile app iOS launch
5. Create all tasks for your product. Use parent issues to denote larger goals and use child issues to break up the goals into individual tasks or jobs.

For each task you add, include the following details:
An assignee
A start & due date
A milestone
Optional: A priority
6. Use your project's Gantt Chart to view your plan visually. Using this view, you can track progress by Milestone.

7. As everyone works, use @mentions to collaborate on tasks, gather feedback, and let others know when tasks are complete so that any dependent tasks can get started as soon as possible.



With Kanban-style Boards, you can easily move tasks through your workflow with a simple drag and drop.

With the Issues list view, you can view and filter issues by status, assignee, due date, and more.

Or use Gantt view to quickly see how your due dates may be affecting other work and adjust accordingly.

Not using Backlog yet? No problem! Start a 30-day free trial — no credit card required — and you can start managing your quality assurance in Backlog today. p>